Good News Stories
Thanks to your giving and volunteer service, Life Church is able to serve our local and global communities.
Loving Mason Elementary
Life Church recently participated in a teacher appreciation day for our adopted school, Mason Elementary. We celebrated the accomplishments and resilience of 80 teachers and staff who, though working in tumultuous times, overcame to make a difference in the lives of many children. Our church is committed to making an impact in education. By sponsoring three local schools through appreciation events, service projects, and literacy reading partnerships we are able to demonstrate in very tangible ways that the Kingdom of God is an asset to our community.
ESL Graduation
Life Church recently saw close to 20 students from various countries such as Venezuela, China, Mexico, and Ecuador graduate from beginners and advanced ESL classes hosted through our ESL program. About a dozen students showed up for a graduation gathering to celebrate their great accomplishment! Students had the opportunity to share dishes from their countries and form deeper community with one another.
Over the course of a year, many students saw dramatic improvement in their ability to communicate in both their workplace and other social settings. Students became more proficient at speaking English, formed friendships, and shared prayer requests. The ESL program is a simple and effective way to demonstrate the Gospel and declare God's love to our community. Thank you so much to Mary Schlung for leading our ESL program and blessing Life Church and the community!
Water Heater Local Service
The Local Service Mobilization Team sent a small group of volunteers from Life Church to replace a water heater in the home a family facing a hard time. This is the second time we've replaced a hot water heater in a home over the last few months, but projects like these are not just about the one time act of service. Instead, they give us the opportunity to create longer term relational connection with the families we serve, allowing us to further demonstrate and declare God's kingdom values and love, though relationship. One of the volunteer families from Life Church has chosen to "adopt"  this household, and will be walking along side them to help navigate deeper rooted struggles. They are following the example of Jesus, who came not just to serve us, but to connect relationally with us.
Greece Missions Trip 2022
A team from Life Church went to Greece to work with Axia 113, a branch of Hellenic Ministries working with the refugees flooding into Greece from the Middle East. While there, our goal was to listen, learn, and get it taste of what it is like to serve in the Greece refugee ministry context. We saw that God has taken a manmade disaster and turned it into a strategic Kingdom building opportunity to lead Muslims to Christ. Each of us left amazed by the Axia team. Their approach to ministry was to simply offer what they had, taking one step at a time in faith to serve the refugees. The pathway forward is not always clear but God is using their posture of humble reliance upon him, to contribute to one the greatest disciple making movements in history, of Muslims coming to know Jesus as lord and savior. Each one of us left challenged by God to grow, change, and serve here in the states. Thank you for your support!
Tornado Relief
Recent storms produced tornadoes that caused pockets of destruction in nearby cities. Thankfully no lives were lost, but sadly, some families' homes were badly damaged or completely destroyed. Life Church responded to this disaster by sending several teams to Round Rock to work in one of the neighborhoods that suffered some of the most extensive destruction. We cleaned up debris, mucked out homes, and most importantly prayed with and encouraged home owners.  Hope was givem the name of Jesus as Life Church volunteers allowed themselves to be his hands and feet.
LC loves LPD
Week after week Leander law enforcement works around the clock to serve and protect our community. As a way to thank and support the men and women giving of themselves so sacrificially, Life Church has organized a simple monthly serving opportunity to prepare and serve meals to police officers at the Leander Police Station. The officers at the last event were well fed with Rudy's BBQ as the meal sponsor.
Christian Resource Center Christmas Toy Drive
Life Church donated close to 300 toys for the Christian Resource Center's Christmas Toy Store! Parents in need are given the dignity of being able to provide a joyful Christmas for their children with presents purchased at to store for extremely low prices.
Hope for Kidz
Life Church families sponsored close to 100 kids at our sister church in Chambellan, Haiti! Thank you to everyone who helped! As a result, children will experience a Christ-based education and receive food and medical care.
English as a Second Language
Our ESL students are learning English and already seeing the benefits of it! Multiple students have reported being able to have more productive conversations in their workplace because of their improved English speaking skills.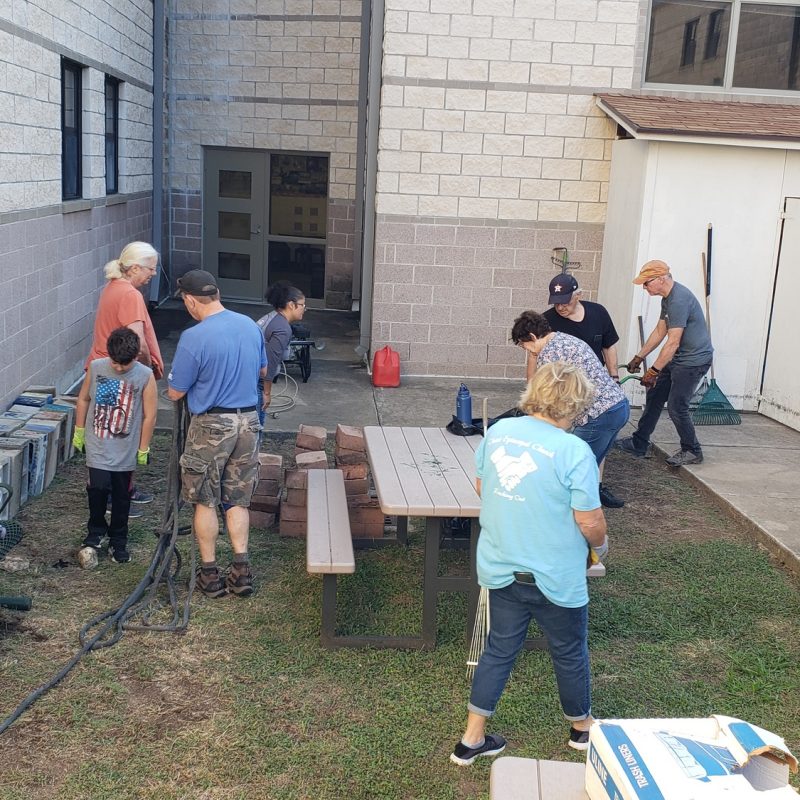 Serving Mason Elementary School
Life Church partnered with Christ Episcopal Church to serve our adopted school Mason Elementary School. Volunteers worked hard and took the first step towards creating an outdoor learning environment for special needs students.
Serving Members of the Community
Life Church volunteers worked hard to clean, repair, and improve the home of an elderly disabled woman, in need of Christ's love.